wordpress website demo template
Whether you love cycling 🚴🏼 or just love looking at them, the OceanWP Bike Shop demo is an excellent solution for creating a professional-looking bike store.
You can add it all — bikes, accessories, clothing, backpacks, and discounted offers.
With a powerful yet lightweight design, you can easily manage your products and create new ones. No coding knowledge is required to do it. Plus, the theme is 100% responsive and looks great on any device.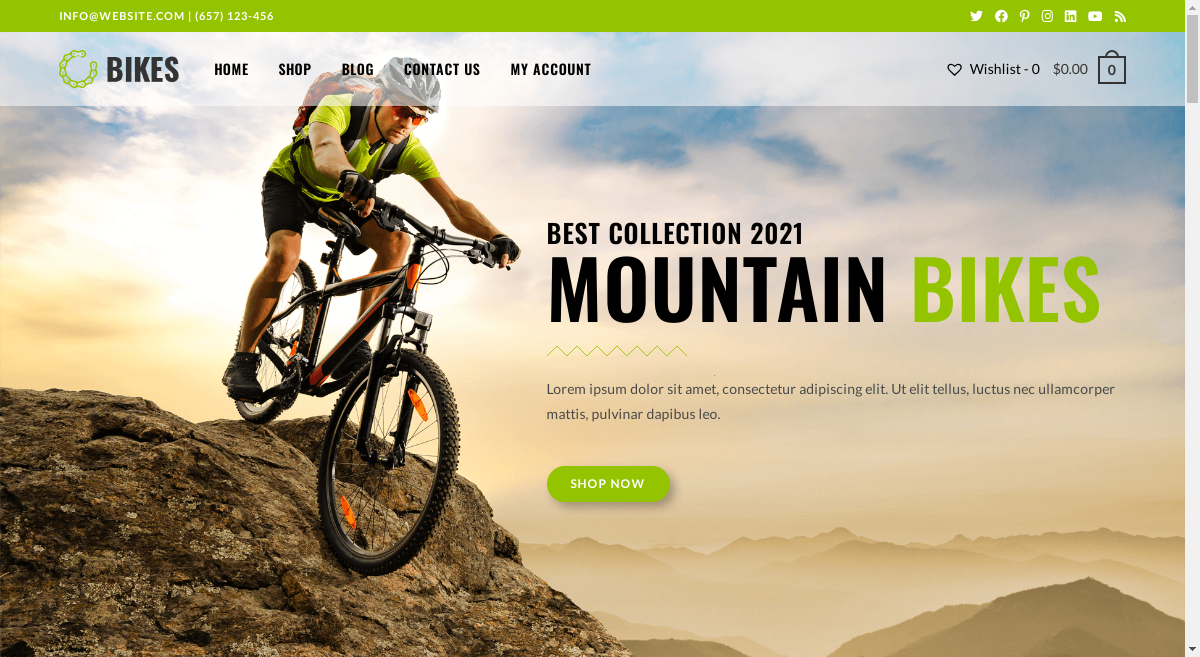 easily customizable and adjustable
Extensions used in this demo
Trouble-free feature extension
Add new features to your website by installing additional Ocean Extensions or remove the extensions you deem unnecessary. OceanWP also offers a vast ready-to-use code library for extended functionality of your online store or presentation.
OceanWP demos are versatile
All Ocean website demo templates represent pre-built website content for the OceanWP free WordPress theme. These easy-to-install one-click starter websites serve to speed up the website building process.

Do you like this demo and can imagine your website using this layout? Would you only change colors and adjust typography? Replace header, footer, blog, shop or product styling? That's not a problem!

Absolutely every aspect can be altered to entirely fit your needs. Isn't that worth a try? Unleash your creativity and start building your website today.
OceanWP is the perfect partner to team our Elementor with. It's fast, lightweight and has tons of helpful additions and extensions. From the feedback I get from our clients I know the OceanWP support is top of the class and fast-responding. You get a complete professional package, plus it works like every great Freemium does: You get a whole bucket full of features on the free version and if you are happy with the result, you upgrade and get even more.
Out of all the "light" themes I've tried to pair with Elementor, I found OceanWP to be hands-down the best. Most of them are either customizable but too bloated, or the options they provide are lacking. OceanWP has the perfect combination. It's a breeze to customize, while staying extremely lightweight. Nick is very responsive to inquiries! Thank you Nick for your hard work.
Certainly OceanWP is one of the best themes today, its Free version presents many possibilities. Its PRO version implements amazing features for Elementor. Today is the theme I recommend for my Brazilian students.
OceanWP is a ground breaking free theme. It's perfectly designed and works great with page builders (especially Elementor). It offers a variety of useful and user friendly options. Nicolas, the author, is super friendly and helpful. What to say, I don't use any other theme now 🙂
Quite possibly the best theme we have used, with over 500 live clients sites and many dozens of active themes, OceanWP beats them all. Over time, we are going to be moving all our active managed clients to OceanWP
OceanWP is an awesome theme, works very well with Elementor and has a lot of great features which work well with WooCommerce. Being able to easily disable or enabled scripts and syles from the theme options is a solid feature.
Get this Demo
and access 170+ more!
$
39
for the Personal Plan
12 Months of Updates & Support

15 Free Website templates
100% No-Risk Money-Back Guarantee!
You are fully protected by our 100% No-Risk Double-Guarantee for new purchases. If you are not satisfied with OceanWP extensions over the next 14 days, we will happily refund 100% of your money.
No questions asked!