Hey guys!
Welcome to our latest event – 30 days of eCommerce with OceanWP! As you probably suspect, we'll be focusing on eCommerce businesses and websites, but we also have some other extras planned 🙂
One part of our 30 days of eComm event is sharing real advice that bring results. Is there a better way to do that than introducing you to OceanWP website designers and developers who build websites for clients on a daily basis? Of course, there isn't.
Ladies and gentlemen, it's our greatest pleasure to introduce you to Annie Bohets.
To the wider OceanWP audience, especially members of the OceanWP Facebook Community Support group, she's known as the lovely and patient moderator. Annie is one of our volunteers, and in her own time selflessly shares her knowledge and ideas with everyone who seek advice or struggle with WooCommerce settings and setup.
Without further ado – Annie!
OceanWP: Tell us a bit about yourself and your business.
Annie: Before moving to The Netherlands in 2002, I was living in Belgium where I worked as a customer service manager. In 2008, my husband and I started our own business. At first, we did only graphic design because my husband was very good at it. But then one day I created my first website and liked it so much that I signed up for online courses. After a while, we introduced a new service to our customers – building WordPress websites 🙂
For a couple of years now, I've also been teaching WordPress Basics Courses and recently OceanWP Courses too. My courses are suitable for all Dutch-speaking enthusiasts, who are eager to learn designing websites on their own.
OceanWP: How did you get started with designing and developing online shops?
Annie: Around 2013, the demand for eCommerce started to grow. That was the point when I decided to learn WooCommerce. In 2014, I created my first Woo web shop for a client, with about 1000 products and some bells and whistles.
OceanWP: What are the trends you see now with online shopping and eCommerce business?
Annie: Clients want fast and easy to navigate web shops, with easy to use payment options and checkout. Naturally, it all depends on their business and needs. One of the latest trends is also mobile first, well crafted content and pages with responsive design that load quickly on mobile devices. Clients are indeed very worried about their eCommerce business on mobiles. And in my opinion, they should be.
OceanWP: What are your best 5 tips for creating an eCommerce shop with high conversion rate?
Annie: Everyone considering an online shop or has one, must make sure that:
The entire website loads fast, especially the homepage.
The eCommerce shop has a superb User Interface.
No matter if you if you're into design or not, the web shop must look representative and good, without compromising the mobile navigation and ease of use.
Display "You might also like" and other relevant or related content or products on the checkout page. Often, customers are uncertain if they need or want to purchase more products. It's your job to increase the offer in a subtle way.
Call to Action buttons are crucial for an eCommerce business! Insert them wisely on strategic places. Make sure CTAs are visible, even on mobile devices. Call to Actions should find your clients/visitors, not the other way around.
OceanWP: What are the 5 things you must never do when developing an eCommerce website?
Annie: This is easy! Absolutely opposite of everything I recommend. Sounds silly, but beginner eCommerce business owners will only take advice if you sometimes put an emphasis on what they should not do.
Slow-loading websites. Go easy on animations, videos and the redundant materials. Product and service quality is all it comes to in the end.
Playing hide and seek with your potential customers. Do you want to waste time on shops where it's hard to find what you're looking for? Put yourself in your clients' shoes.
Call to Action buttons and banners that fail to convert. Create and monitor, change and monitor. Do everything all over again until you get it right.
Horrible and lousy User Interface.
Avoiding reminders to purchase or showcase more products. Things should be kept clean, but not at the cost of your eCommerce business.
OceanWP: What are the 5 plugins you recommend for any online store?
Annie:
OceanWP: For how long have you been using OceanWP?
Annie: I've been using OceanWP for about 5 years. Now that I think about it, I've been with you guys from the very start! Time flies in good relationships.
OceanWP: What are the benefits of working with OceanWP? Why did you choose this theme?
Annie: At first, I used the official WooCommerce theme. But at that point, I already had multiple clients and had to customize the theme differently for each of them. I ended up having too many add-ons. So I started testing and comparing multiple themes, and it has been a long process. I tested their speed, free and premium features, support quality, etc.
OceanWP and one other renowned theme came out as my two favorites. I really needed them to play well with Elementor and Woocommerce too.

I must admit, choosing between those two… it was a close call. But finally OceanWP won.

I have lots of clients just starting out with their eCommerce business. Most of them are on a tight budget or simply can't afford to invest more in a web shop at the beginning. OceanWP offers so many great features for free, as opposed to the other theme where I needed to buy the premium version just to have a decent menu. Using OceanWP I can provide professional looking websites and web shops even to clients with a small starter budget, and if they need more, I can charge them the Ocean premium add-ons. Win-win!
Using the same theme for all my projects is essential and beneficial for my workflow. That way, I know the inns and outs, which saves a lot of time. Even better, with OceanWP you can never run out of ideas and options and create two websites that look absolutely the same, unless that was your intention.
OceanWP: Are there any particular Ocean Website Demo Templates that you like most?
Annie: By far, my two favorite Ocean starter templates are Delicious and Tea. What can I say, most of my clients are into food related eCommerce business haha.
OceanWP: Can you share 3 websites that showcase your best design and development practices and are, of course, built with OceanWP?
Annie: At the moment, I run about 70 sites and web shops, all on OceanWP, so that last part of the question is easy haha.
LogoLogics Webdesign – My personal website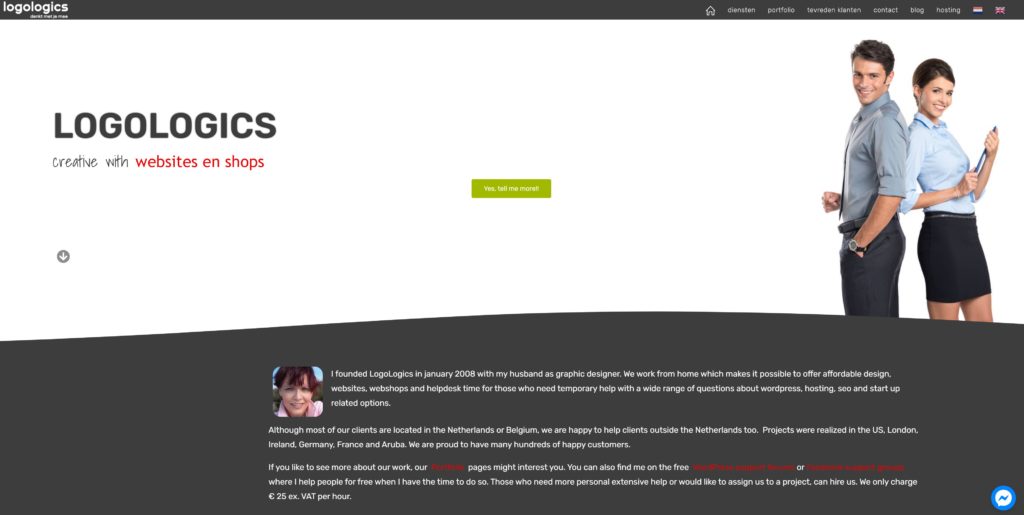 OceanWP: Since many online entrepreneurs are seeking online shop solutions, why do you think they should choose WordPress and OceanWP over other solutions that are out there?
Annie: OceanWP has so many great features, right out of the box, even in the free version, good support, easy to work with. I absolutely love the way it plays well with WooCommerce and most of the Woo add-ons too. The premium Ocean Woo Popup add-on is great! Awesome for increasing conversion, love it!