With so many new WordPress updates that are being introduced, it is important to understand each update and use them wisely. As any web developer, it is obvious that you will need to create WordPress sites for clients which are easy to use and also attracts organic traffic. However, in between all this, it is important to think about the backend.
By not focusing on the backend, it might be possible that you are missing an opportunity of impressing your client. It is important to take time to prepare WordPress for your clients so that more brand elements can be added to the website.
All of this definitely is ultimately good for your impression as well as for the client's business. All of these will surely reflect as a finishing touch to the website. A website needs to be trimmed and finished properly so that it can portray the true picture of the business and attract maximum clients. This is definitely more likely to improve the client's all over site appearance and the site experience will be more enjoyable. Now let's have a look at the few things that might answer any doubts you might have regarding ' how to update WordPress website?'
The most crucial thing to do for your website is to back up for your site. In case you have already incorporated backup in your maintenance plan then you are on track. Even if the client does not want the backup to make sure that you still back up his site. This will make sure that in case anything goes wrong the site you will have the last resolve. This can be done by some simple tools that can handle backups on their own.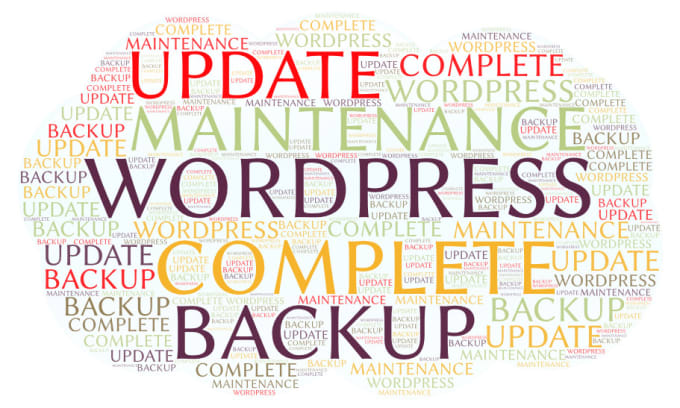 It can be really overwhelming to have so many options of themes, plugins, and toolbars to choose from. There are various options to explore such as menus and toolbars. This is why WordPress websites can end up looking very different once they are designed.
It is important to realize that you need not go for options that nobody needs. There is no need for setting or adding tags which are of no use on your website. Ask yourself: will these tags be useful for the client? Do you need access to these themes? Site browsing, in general, will become very easy if all the tags and themes which are unnecessary are removed.
Customize the way the site looks. Yes, this can change the game to another level. The look and feel of the website should be apt enough to make sure that the client cares. This will provide a sense of belonging to the client as everything will be as per their requirements.
This can be done by incorporating simple changes such as changing the WordPress logo with client's brand logo and add it to the dashboard. You can also change the color scheme so that it can match their branding.
Another thing you can do to give the client a pleasant experience is to add a bit of your branding. The current admin section has the footer which states " thank you for creating with WordPress" which will definitely mean nothing to your client.
This is where you can give things a little tweak and create your own company name and add the link to the dashboard. This dashboard can also be used to send updates to your clients. This is a good way to be in the radar and not be out of sight, out of mind.
There are also various ways by which you can go for a WordPress update. There are two ways for neat customization. The first one is by using some plugins. With certain plugins such as iThemes Sync, you can customize which menu items will display on the WordPress dashboard on a per-user basis.
Various other plugins can help you to customize the dashboard without any cost. There are also certain paid plugins which offer upgraded options. Also, make sure that you code the website yourself. You can tweak the backend so that the site does not slow down like a pile of plugins.
You can also use Gutenberg which is a new editor that will help in replacing the current one by using content blocks. This will allow you to add the usual elements such as headings, images, paragraphs, etc. You can also make your add some quotes to make the blog feed more interesting.
What does Gutenberg mean for your client's sites?
One of the newest editions in WordPress is Gutenberg which aims to give a user more visual experience with the help of visuals. It is a known fact that visual experiences leave a much more deep impact on people. This is why it can be very easy to impress your clients with such posts and images.
Now that you have created an impressive WordPress for clients it is also very important to keep it updated in order to stay in the good books of the client.